Backpack Food Program
During the school year we provide food assistance to 59 students at Alexander Wilson Elementary, Broadview Middle & Ray Street Academy/Turning Point schools. This past year we provided 1902 assistance bags for over 3804 days of food. We seek donations as well as people to put bags together and deliver them each week.
Allied Churches of Alamance County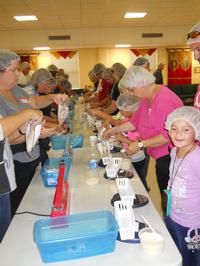 On the first Sunday of each month, groups of volunteers within the church serve dinner at the Allied Churches Emergency Night Shelter.
We also support the Allied Churches' Food Pantry. We encourage you to bring a food donation with you when you come to worship. There is a bin in the narthex for the collection of items to help keep the shelves stocked. The items for each month are:
January- Cereal and Oatmeal
February- Canned Vegetables
March- Paper Products (paper towels, toilet paper)
April- Canned tuna or pork and beans
May- Peanut Butter and Jelly
June and July- Boxed Food Items
August- Canned Vegetables
September- Canned Pasta Products
October- Cereal
November- Stuffing or Rice
December- Macaroni and Cheese
Piedmont Rescue Mission
We support this mission that seeks to "give a hand up, not a hand out." We give through our church budget, take up special offerings and provide hundreds of toys for families at Christmas.
A

lamance County CROP Walk
For many years we have walked to raise awareness and support the work of Church World Service. The CROP Walk takes place on the first Saturday in October.
Meals on Wheels
Volunteers from Graham Presbyterian deliver a weekly route of meals to area residents on Mondays.
Rise Against Hunger!
We pack 10,000 meals that are sent around the world with the goal of ending world hunger.
Graham Presbyterian Hut on Maple Street
The hut provides meeting space for a number of important support groups, including:
-Alcoholics Anonymous
-Narcotics Anonymous
-Bipolar Support Group